CACTUS STAR VINEYARD
Scaredy Cat Ranch
An Award Winning Boutique Winery
Established in 2001
Welcome to Cactus Star Vineyard at Scaredy Cat Ranch
An Award Winning Winery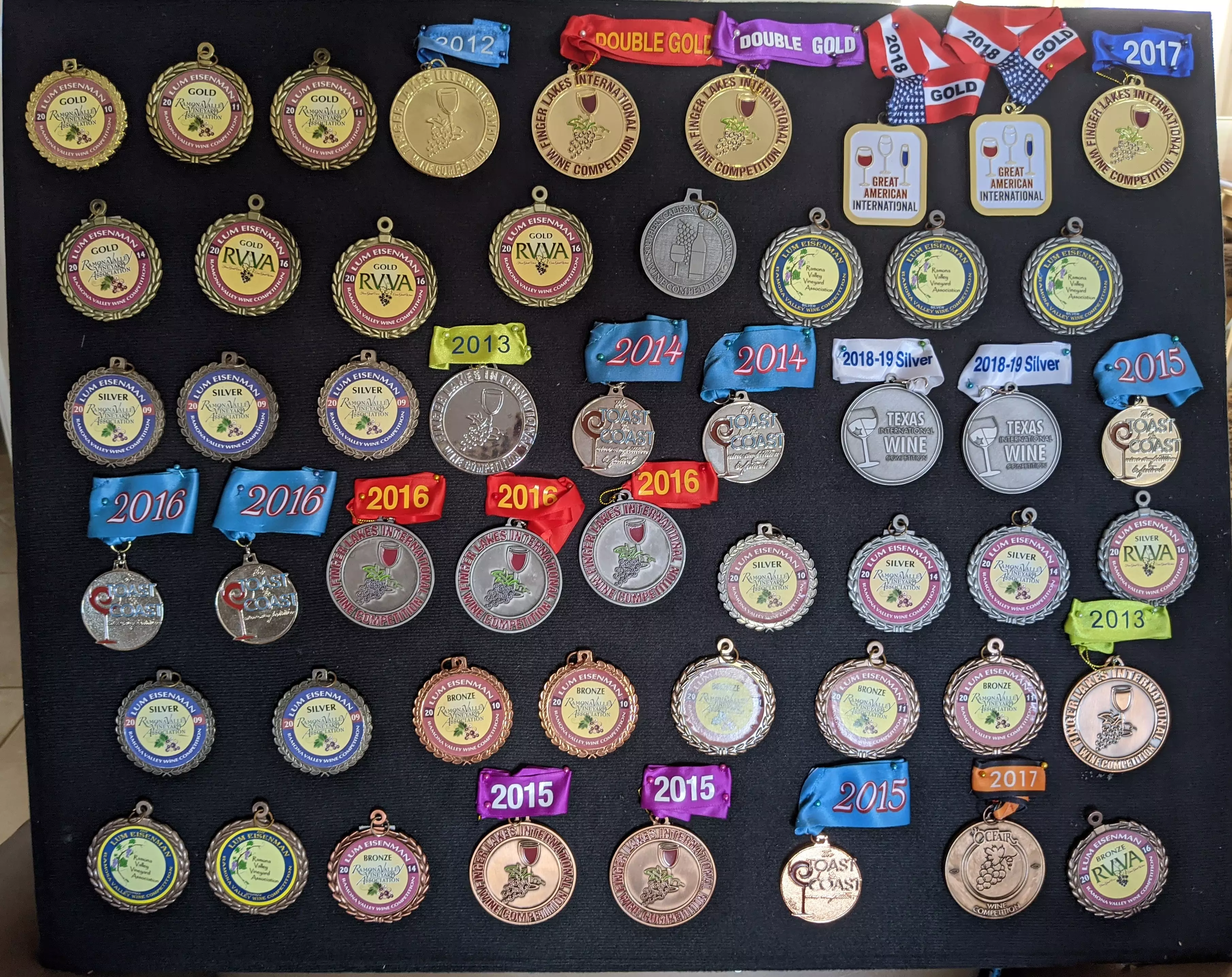 Currently sold out of all wine except for a few cases of Scaredy Ranch 2016 Ranch Reserve Cabernet Sauvignon. Which is available for pickup upon request, delivery or shipment.

As usual, we will be re-opening the tasting patio in late Oct. with new releases.
Cactus Star Vineyard at Scaredy Cat Ranch is a boutique winery located on the west end of the Ramona Valley AVA. Our estate was established in 2001 with the first vintage crafted in 2004. We are one of the smallest wineries in Southern California producing 150 - 200 cases per year. All of our wines are produced and bottled on the Scaredy Cat Ranch premises using estate grown grapes and occasionally local Ramona Valley grapes.
We are proud to be within the boundaries of the Ramona Valley AVA. The Ramona Valley AVA was designated in 2006 by the Federal Government recognizing the distinct terroir and diverse micro-climates within the valley creating unique growing conditions for a wide variety of wine grapes.

Ramona Valley has the nickname "Valley of the Sun" because of the long sunny days during the summer months. Day time temperatures are warm, however, as the Ramona Valley is approximately 20 miles from the Pacific Ocean, the nights are typically cool and the western side of Ramona enjoys morning marine layer throughout the year. This climate is ideal for growing premium wine grapes.
The one acre estate vineyard was planted in 2001 with Tempranillo and Cabernet Sauvignon, then in 2002, Malbec and Petit Verdot were added.
The initial intent of the vineyard was to supply grapes for home winemaking efforts. However, the novice vintner underestimated the productivity of the vineyard, and thus the winery was born.
In the beginning...2001
The vineyard during summer of 2001.
A little Later...
Picking time circa 2005
Later yet...
Veraision circa 2008
Spring 2010...
Spring shoot growth
Grapes in our Estate Vineyard
Tempranillo
The great grape of Spain. In Ramona, Tempranillo feels right at home. Tempranillo is a black grape with very thick skins that makes very aromatic, silky red wine. Aromas of mixed berries and firm tannins make for a complex wine capable of aging.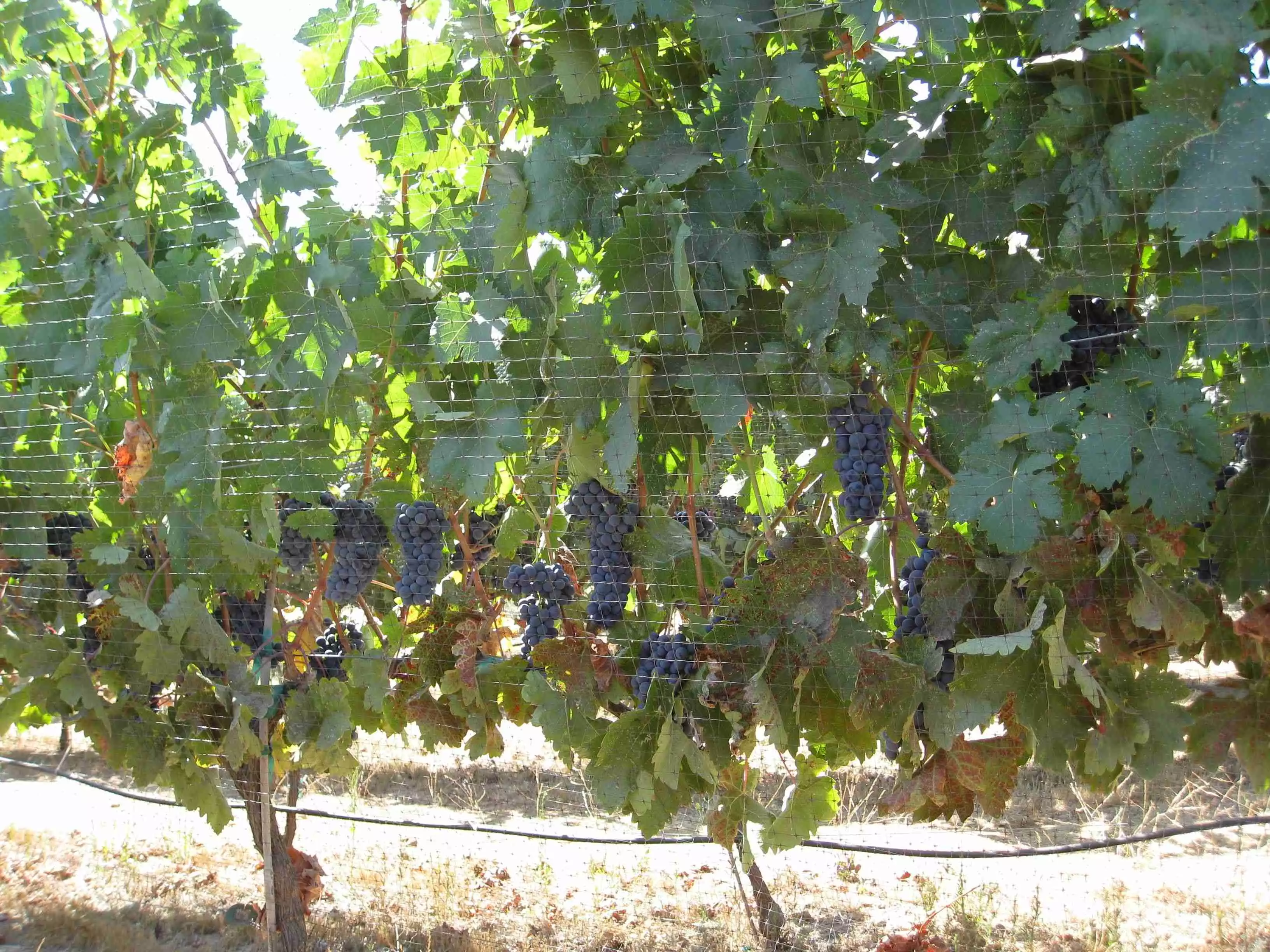 Cabernet Sauvignon
It's Cab.... what can be said. King of the vineyard, and most say king of the wine world.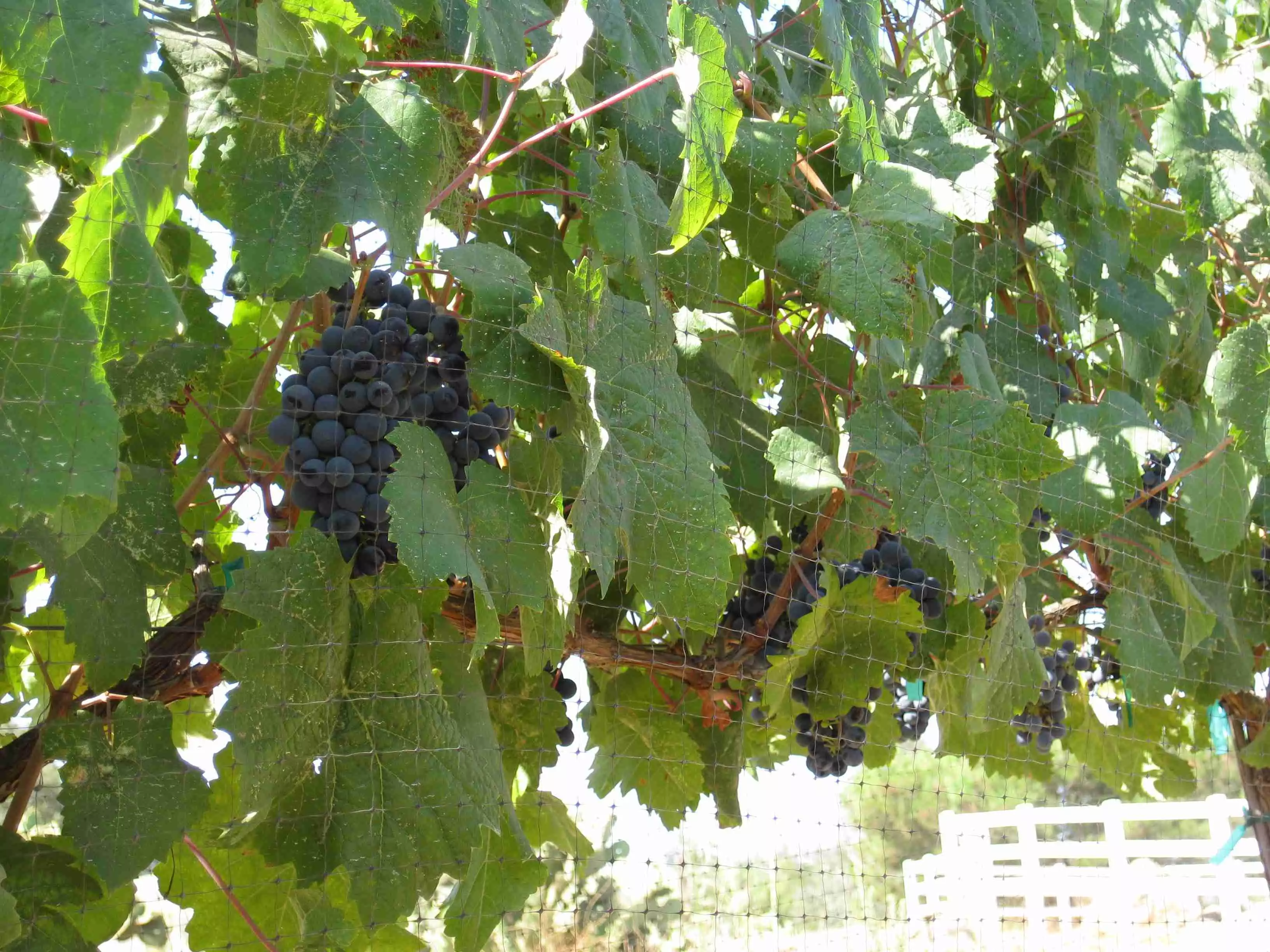 Petit Verdot
It has been said that Petit Verdot is like working with a temperamental actress. With a little convincing it can give a performance for the ages...or not...leaving the winemaker the urge to cut off its water supply and let the gophers have their way. But sanity prevails and the Petit Verdot gets to see another season.

At Scaredy Cat Ranch the Petit Verdot has been excellent to date. Well worth the trouble. We do a very limited 100% bottling, but most of it is used in the Cabernet Sauvignon.
Malbec
Malbec is the wild card at Scaredy Cat Ranch. It's the squatter which has won squatter's rights. Also, since the vines are close to ranch horse, on occasion, much to the dismay of the winemaker, he has a bite or two. Kind of an impromptu pruning or crop thinning, depending where he takes a bite.

The Malbec is used to blend in with the Cabernet Sauvignon. On its own it makes a wonderful wine with lots of blackberry flavors. However, there isn't enough production to make a straight varietal.
The winery produces 150 - 200 cases of wine annually marketed under three labels. All estate wines are labeled as Scaredy Cat Ranch, any wine produced from nearby Ramona Valley vineyards are labeled Two Dogs Barking and a limited sparkling production is labeled Cactus Star. All wines are made on the Scaredy Cat Ranch premises. Scaredy Cat Ranch Estate wines produced are Tempranillo, Meritage, Cabernet Sauvignon and Petit Verdot. Two Dogs Barking wines in the past have been Pinot Noir, Syrah, Zinfandel, Grenache, Viognier and Aglianico.
Cactus Star is a boutique winery dedicated to producing small batches of premium wines from the estate vineyard and occasionally from local Ramona Valley grown grapes. All our wines undergo cold soaking and primary fermentation in small macro bins where the caps are punched down at least twice daily. Then the must is pressed and put into 225 liter oak barrels where the wine completes its fermentation and undergoes malolactic fermentation.
Scaredy Cat Ranch label
All wine with the Scaredy Cat Ranch label are produced using Estate Grapes
Two Dogs Barking label
Produced at Scaredy Cat Ranch using local Ramona Valley grown grapes
Cactus Star Vineyard label
Very limited production of sparkling wine. Produced at Scaredy Cat Ranch using the traditional Methode Champenoise method, which means fermented in the bottle.