Our Story and Journey
The original Scaredy Cat...Ringo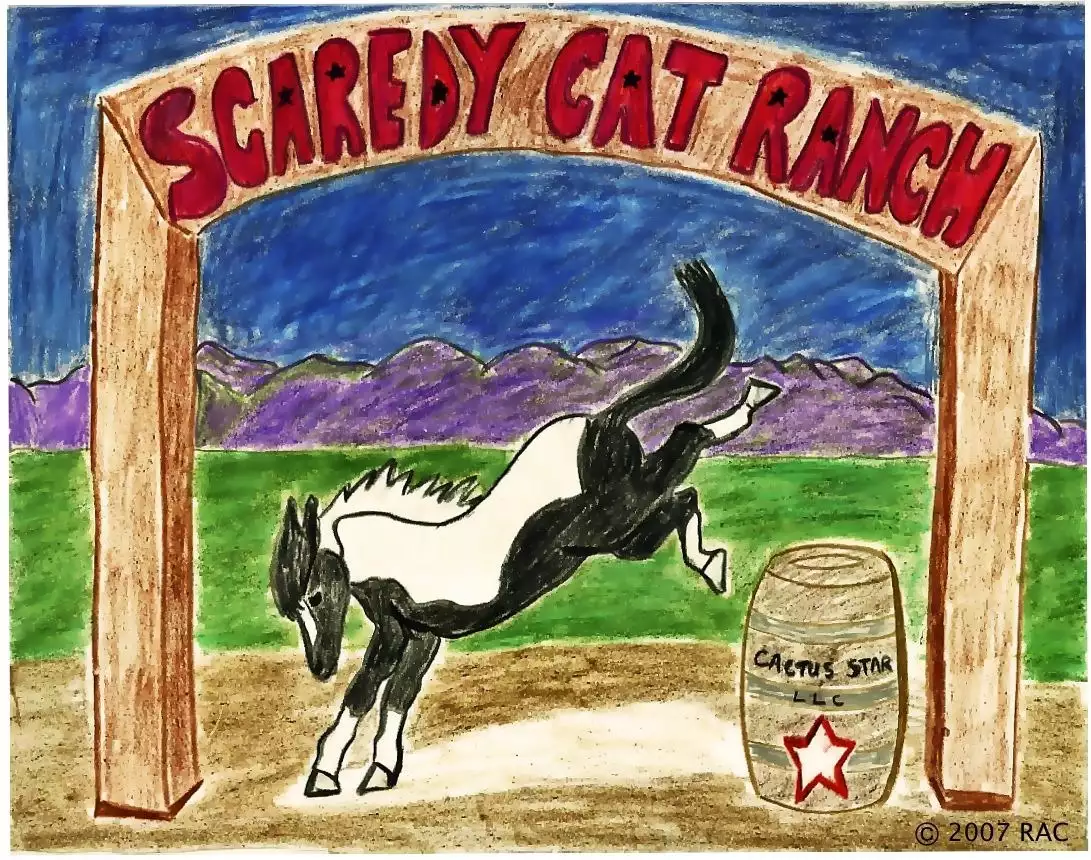 Our story started in Pittsburgh, Pennsylvania, known as the Steel City. When I first met Joe, we discovered that we had a lot in common. I was a sales and office manager for a steel fabricating plant that specialized in steel mill equipment. Joe was an electrical engineer, designing electrical and control systems for steel mills around the world.

After we got married, I bought Joe a beer-making kit, "Beer-In-A-Bag" for a present. We had a party and had people try it. Well, that didn't go over too well, but they still remained as dear friends. Next, Joe tried "Wine-in-a-Can", wine-making kit. That wasn't too bad! That's when he became hooked on making wine. It was in his blood, considering his mom made dandelion wine on the large dairy farm, Sugar Ridge, in northeastern Pennsylvania where he grew up.

In 1995, he decided to go all out and start from scratch. Pittsburgh has an area called The Strip District, along the Allegheny River in downtown Pittsburgh. There you can purchase grapes from California, starting at midnight! The first time was a hoot. We thought we'd be one of the few people showing up at that hour, but it was bustling!! Lots of different varietals of both grapes AND people!! Since we didn't have a de-stemmer, we sat out in our backyard and took all of the grapes off the stems! Needless to say, we never did it that way again! After purchasing a few winemaking items, Joe continued to make wine as a hobby and thoroughly enjoyed it. So did our family and friends!

In February of 2000, we were sitting in our living room looking out at the closed pool, grey skies and drizzle. Joe's ritual was reading the help wanted ads on those days. There was an ad that simply said, "Electrical Engineer - It's sunny and 78 on the beach". He read it to me and said "Do you want to go?" I said I was ready. We came out to San Diego for the interview, he got the job, and we sold our house and prepared for the move. Leaving our treasured family and friends behind was the hardest part.

We both wanted acreage again but for different reasons. Joe wanted to try his farmer hand at growing wine grapes. I wanted to finally have my own horse. Ramona just seemed like the perfect place for us. We bought our house at the end of 2000 and, here we are enjoying the beautiful California weather even in February!! The climate and the property are perfect for the grapes and the horse. And, Ramona is certainly everything we had hoped for and more. Perfect weather, beautiful scenery and new friendships.

Joe had just planted his first vines of Tempranillo and Cabernet Sauvignon in 2001. I was driving around one day exploring our new town and spotted a gorgeous vineyard with a man working in it. Being Mrs. Curious, I pulled over and asked the man about his vineyard. That happened to be Don Kohorst from Pyramid Vineyards. He was so nice in answering questions about where to purchase the wire and posts for our newly planted vineyard. He also invited us to join a newly formed small group of other vineyard people in Ramona. And, that's how we became part of the wonderful group of people called the Ramona Valley Vineyard Association.

Joe had read a lot of wine-making books over the years. But upon meeting Lum Eisenman, he finally had a great mentor in professional winemaking. Lum is responsible for "cultivating" Joe and many other winemakers in the area. Lum has taught it as a college class and wrote an excellent book titled "Home Winemakers Manual" which is a must-read for anyone interested in the craft. Lum is very generous with his vast knowedge to all that ask.

We planted our first vines in 2001. Our winery became bonded in the spring of 2006. Our first vintage under bond was fall of 2006. Our tasting patio opened at the end of 2011. Our estate wines are grown, produced and bottled right here on our property, and sold under the label Scaredy Cat Ranch. The estate wines are Tempranillo, Cabernet Sauvignon, Petit Verdot and Meritage. People have asked how we came up with our label names. I had my picture taken on a black and white paint when I was little and had always dreamed of owning one. So naturally, my first horse was a black and white paint. He was very spooky and scared of everything. If I even sneezed, he would jump sideways and start bucking away. I started to look for the perfect saddle, black with white stitching. Of course, it had to match the dream horse. I wouldn't settle for less. Joe kept asking me every day when he got home from work if I rode that horse yet. After continually telling him that I still couldn't find the perfect saddle, Joe realized I was just too scared to ride him! With a scaredy horse and a scaredy girl, Scaredy Cat Ranch was born. I eventually did find that matching saddle and did ride that horse!

Occasionally, we also buy local Ramona Valley grapes to make varietals we don't grow. We process and bottle these and a sparkling wine right here, too. The non-estate wines are bottled under our Two Dogs Barking label and the sparkling wine is labeled as Cactus Star Vineyard. The name Two Dogs Barking came about because our neighbor, Mike Beach, Sr., gives everyone a Native American nickname. My nickname was Two Dogs Barking because of our two very vocal wire fox terriers. Our third label is Cactus Star, for our sparkling wine. We thought of the name when we saw the sparkling, starlit sky shining on our cactus garden, overlooking the vineyard.

Thanks to Carolyn Harris and, both the winery ordinance and AVA committees and their donated hours of hard work and determination, Ramona Valley has become its own AVA (American Viticulture Area) with an emergence of boutique wineries. Just like Napa Valley, there is now Ramona Valley!! Really put us "on the map" as a wine region! Please be sure to check out the great new winery map by Beth Edwards in the Ramona Valley Winery Association brochure. It's terrific!

We hope you're considering visiting the many tasting rooms and patios in Ramona and other parts of San Diego County sometime soon. We would all love to meet you and introduce you to the fruits of our labor. Life's good........wine can make it a little better.